Website Uptime Monitoring Services: Crucial for Your Online Success
In today's digital age, building an online presence is essential for businesses of all sizes. A well-designed website with compelling content can help you reach a wider audience, generate leads, and boost sales.
However, your website's success depends on more than just its design and content. It's also important to ensure that your site is up and running 100% of the time. After all, a website that's down is like a closed shop in the digital world.
Unfortunately, even the best websites may experience occasional downtime due to various factors such as software bugs, server issues, or cyberattacks.
This is where website uptime monitoring services come into play. These services periodically check your website's availability and alert you immediately if it goes down. This allows you to take corrective action quickly and minimize the impact on your business.
Table of Contents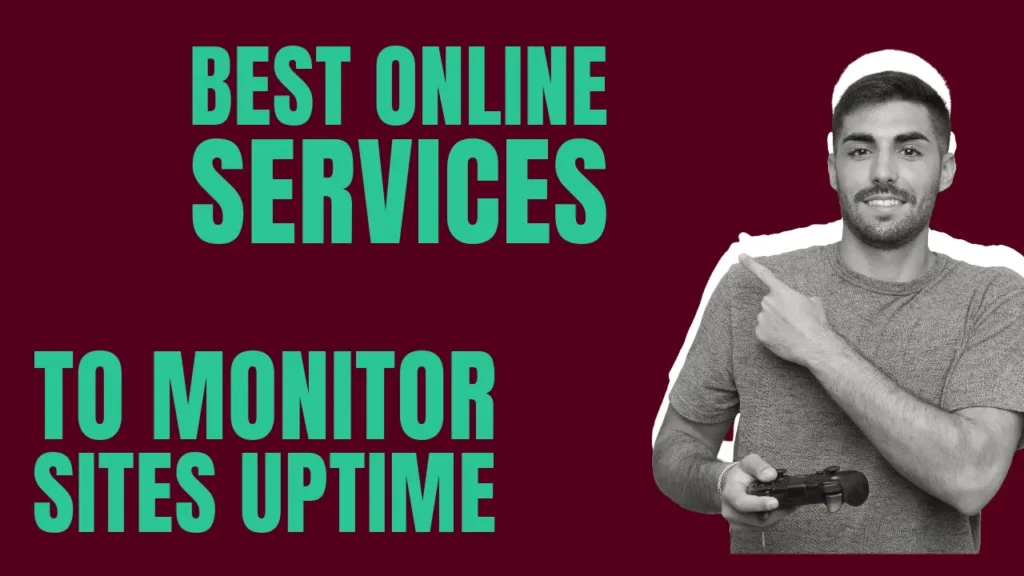 Benefits of website uptime monitoring services
There are many benefits to using a website uptime monitoring service, including:
Improved customer satisfaction: When your website is down, visitors can't access your products or services. This can lead to frustration and lost sales.
Increased revenue: A study by Akamai found that a one-second delay in page load time can result in a 7% decrease in conversions. By improving your website's uptime, you can increase the number of visitors who complete purchases.
Enhanced SEO: Google and other search engines favor websites with high uptime. This means that a website that's up and running more often is more likely to rank higher in search results.
Reduced risk: Downtime can also expose your website to security risks. By monitoring your website's uptime, you can identify and fix problems before they lead to a data breach or other security incident.
Top website uptime monitoring services
There are many different website uptime monitoring services available. Some of the most popular options include:
1. Host Tracker
Host Tracker is a website uptime monitoring service that helps site admins monitor key metrics like page errors, database connection problems, and network issues. It also provides instant alerts and allows users to share them with multiple contacts. Additionally, Host Tracker checks to see if a domain or IP address is blacklisted.
Host Tracker does not offer real user monitoring (RUM), which can be a drawback for websites with high traffic volumes. However, it offers a variety of other features that make it a valuable tool for site admins, including:
Availability checks: Host Tracker periodically checks your website's availability from multiple locations around the world.
Easy-to-use dashboard: Host Tracker provides a user-friendly dashboard that makes it easy to view your website's uptime, performance, and response times.
Content monitoring: Host Tracker can monitor your website's content for changes and send you alerts if any changes are detected.
Alerts from email, SMS, Slack, Facebook, and voice calls: Host Tracker can send you alerts about your website's uptime and performance via email, SMS, Slack, Facebook, or voice calls.
API monitoring: Host Tracker can monitor your website's APIs for uptime and performance.
Host Tracker offers a variety of pricing plans, making it an affordable option for businesses of all sizes. The basic plan starts at $9.99 per month, and the enterprise plan costs $75 per month.
Overall, Host Tracker is a comprehensive website uptime monitoring service that offers a variety of features at an affordable price. It is a good option for site admins who want to monitor key metrics, receive instant alerts, and share them with multiple contacts.
Here are some of the benefits of using Host Tracker:
Improved website reliability: Host Tracker can help you identify and fix problems before they impact your website's performance or availability.
Reduced downtime: Host Tracker can help you avoid downtime and keep your website up and running 24/7.
Enhanced SEO: Google and other search engines favor websites with high uptime. Host Tracker can help you improve your website's uptime and SEO.
Peace of mind: Host Tracker can give you the peace of mind knowing that your website is being monitored and that you will be alerted immediately if any problems occur.
If you are looking for a reliable and affordable website uptime monitoring service, Host Tracker is a great option.
2. Hyperping
Hyperping is a cutting-edge network monitoring tool designed to ensure the seamless performance of websites and online services. Its key features include real-time monitoring, pinpointing latency issues, and tracking uptime. With Hyperping, users can proactively identify and address network bottlenecks, preventing downtime and improving user experiences. Its intuitive dashboard offers a clear overview of website health, and customizable alerts notify users instantly of any disruptions. Hyperping supports multiple protocols, making it versatile for various applications, and provides insightful analytics to optimize performance. Overall, Hyperping empowers businesses to maintain reliable online services through its robust monitoring and alerting capabilities.
Key features include:
Real-Time Monitoring: Hyperping continuously tracks your website or online service, providing instant updates on its performance and responsiveness.
Latency Detection: It precisely identifies latency issues, helping you pinpoint bottlenecks in your network and promptly resolve them.
Uptime Tracking: Hyperping keeps a vigilant eye on your service's uptime, ensuring that it remains accessible to users without interruptions.
Customizable Alerts: Users can set up personalized alerts to receive notifications the moment any issues or outages occur, enabling swift response and problem resolution.
Intuitive Dashboard: Hyperping's user-friendly dashboard offers a clear and comprehensive view of your website's health and performance metrics.
Versatile Protocol Support: It supports various network protocols, making it adaptable for different applications and services.
Analytics and Optimization: Hyperping provides insightful analytics to help you optimize your online service's performance and user experience.
3. Dotcom-Monitor
Dotcom-Monitor is a website monitoring tool that offers a variety of features to help you ensure that your website is performing optimally.
One of the most important features of Dotcom-Monitor is real browser monitoring. This allows you to simulate user interactions and test your website's functionality from a real user's perspective. This can be invaluable for identifying and fixing any usability issues before they impact your customers.
Dotcom-Monitor also offers mobile monitoring, which is essential in today's mobile-first world. This feature allows you to test how your website performs on different mobile devices and operating systems. This can help you ensure that your website is accessible and user-friendly for all of your customers.
Another important feature of Dotcom-Monitor is load testing. This allows you to test how your website performs under heavy traffic conditions. This can help you identify any performance bottlenecks and ensure that your website can scale to meet your needs as your business grows.
Dotcom-Monitor offers a 30-day free trial, so you can try it out and see for yourself how it can help you improve your website's performance. The paid plans are also very cost-effective, ranging from $19.99/month to $79.99/month.
Key feature of Dotcom-Monitor:
Real browser monitoring to simulate user interactions and test website functionality
Mobile monitoring to test website performance on different mobile devices and operating systems
Load testing to test website performance under heavy traffic conditions
30-day free trial and cost-effective paid plans
4. Uptrends
Uptrends is a powerful website monitoring tool that ensures your site's reliability. It checks your website from multiple locations and promptly alerts you via email if any issues arise. The platform boasts a visually appealing dashboard presenting vital site metrics such as availability charts, error breakdown by types, and total page load times. Customization options allow you to tailor the dashboard to your preferences. Additionally, Uptrends offers the convenience of exporting data in PDF or Excel formats. Even better, you can kickstart your monitoring journey for free. Uptrends ensures your website stays in top shape while providing a user-friendly experience.
5. Server Density
Server Density, while not exclusively focused on uptime monitoring, offers significant value when it comes to overseeing comprehensive tech stacks. Its capabilities extend beyond server monitoring and encompass websites, applications, and networks, providing customizable checks that enable seamless scalability without disruptions.
One standout feature of Server Density is its API, which excels in facilitating the creation of dashboards and the configuration of alerts through code. This aspect may suggest that the platform caters primarily to tech-savvy users. However, Server Density has successfully bridged the gap to make its services accessible and efficient for non-technical users as well. This user-friendly approach ensures that organizations of varying technical proficiencies can harness the platform's benefits.
While Server Density does not offer a free plan, it does provide a practical way to explore its capabilities through a 14-day free trial. This trial period allows potential users to assess whether the platform aligns with their monitoring needs and preferences. When it comes to pricing, Server Density offers a reasonable range, starting at $10 per month and going up to $250 per month, catering to businesses of different sizes and budgets.
Key Features of Server Density:
Docker, Kubernetes, and Container Cluster Monitoring: Server Density excels in monitoring containerized environments, including Docker, Kubernetes, and container clusters. This feature is crucial for organizations embracing containerization and microservices architectures.
Automated Alert Management: The platform offers automated alerting, ensuring that you are promptly notified of any anomalies or issues within your tech stack. This proactive approach helps in minimizing downtime and maintaining system reliability.
Cross-Platform Monitoring: Server Density provides the capability to monitor a wide range of components across various platforms. This comprehensive approach allows you to gain a holistic view of your infrastructure, regardless of the technology stack you employ.
Secure Content Delivery Network (CDN): The inclusion of a secure content delivery network enhances the platform's capabilities. This feature can help improve the performance and security of content delivery, particularly important for websites and applications with global reach.
In summary, Server Density is a versatile monitoring solution that goes beyond uptime tracking. It offers a robust set of features, including container monitoring, automated alerts, cross-platform compatibility, and secure content delivery. Its flexible pricing options make it accessible to businesses of all sizes, and its user-friendly interface ensures that both technical and non-technical users can harness its monitoring capabilities effectively.
6. Calibreapp
Calibreapp empowers you to deliver a seamless user experience, regardless of your audience's location or connection speed. It streamlines the process of automating tests and provides invaluable insights into how third-party code influences your system's performance.
One of Calibreapp's standout features is its ability to generate automated insights reports. This functionality not only saves time but also eliminates the need to laboriously construct reports from dashboard data, simplifying the decision-making process.
In terms of pricing, it's important to note that Calibreapp falls on the higher end of the cost spectrum compared to many platforms in this category. The basic plan starts at $75 per month, allowing for 5,000 tests monthly for a single team. For organizations with more extensive testing needs, there's an option priced at $1,500 per month, granting the capacity for 50,000 tests per month and accommodating unlimited teams.
For those intrigued by the capabilities of Calibreapp, a 15-day free trial is available. This trial period offers an opportunity to explore the full range of features and gauge how well they align with your monitoring and testing requirements.
Key Features of Calibreapp:
Testing for Public and Password-Protected Sites: Calibreapp supports testing for both public and password-protected websites, ensuring comprehensive coverage of your digital properties.
Core Web Vitals Support: With a focus on user experience, Calibreapp helps you monitor Core Web Vitals, critical metrics for assessing the speed and responsiveness of your webpages.
Third-Party Tracking: Gain insights into the impact of third-party code on your website's performance, helping you identify and mitigate issues caused by external dependencies.
Pages Leaderboard: Stay informed about the performance of different webpages with the Pages Leaderboard feature, facilitating targeted improvements where they matter most.
Command Line Interface: Calibreapp offers a command line interface for users who prefer a more hands-on approach to managing and executing tests, providing flexibility and control.
In summary, Calibreapp is a powerful tool for optimizing web performance and user experience. While it comes with a higher price tag compared to some alternatives, its robust feature set, including Core Web Vitals support, automated insights reporting, and third-party tracking, makes it a valuable asset for organizations committed to delivering top-tier digital experiences. Consider taking advantage of the 15-day free trial to explore its capabilities firsthand.
7. StatusCake
StatusCake is a web monitoring and performance testing platform. It empowers businesses to track the availability and performance of their websites, servers, and online services. With features like uptime monitoring, real-user testing, and alerting, StatusCake helps ensure a seamless online experience for users while promptly identifying and resolving issues.
StatusCake offers a comprehensive suite of monitoring services, including uptime checks for various protocols, instant alerts through email, SMS, and third-party apps like Slack, Telegram, and Discord, along with root cause analysis. Additionally, it provides page speed, SSL, domain, server monitoring, and virus scanning to ensure the smooth operation and security of online assets.
StatusCake offers comprehensive website and server monitoring.
It provides real-user testing to assess website performance from the user's perspective.
The platform includes alerting features to quickly notify users of any downtime or performance issues.
StatusCake helps businesses maintain a reliable online presence and improve user experiences.
8. UptimeRobot
UptimeRobot stands out as a widely used uptime monitoring solution, providing the invaluable ability to track up to 50 websites indefinitely without any cost. It keeps a vigilant eye on sites, monitoring their HTTP and ping responses, and promptly alerts you via email or SMS should any site experience downtime.
However, it's essential to acknowledge a notable limitation – UptimeRobot lacks features like speed insights. Nevertheless, it redeems itself with a two-year log storage capacity and one-minute checking intervals, exclusive to its paid plan. If you're not yet ready to invest in a monitoring service, the free plan is an excellent fit, particularly suited for blogs or straightforward websites. For those requiring advanced functionalities, the cost of a Pro subscription is highly reasonable.
Setting up UptimeRobot is a breeze, taking only about a minute. Once configured, you can effortlessly keep tabs on your website 24/7, alleviating the need for manual checks.
The free plan generously includes 50 monitors and 5 alert contacts. With paid plans, a host of enhanced features becomes available, including custom checks and SSL monitoring. The price range for paid subscriptions starts at a budget-friendly $7 per month, catering to those seeking basic monitoring without breaking the bank.
Key Features of UptimeRobot:
Domain Expiration Monitoring: Ensure your domain remains active and renewed with this monitoring feature.
Cron Job Monitoring: Keep track of scheduled tasks and jobs to maintain smooth operations.
Port Monitoring: Ensure critical ports are accessible and responsive, enhancing site reliability.
Ping Monitoring: Monitor network connectivity and response times for optimal performance.
Maintenance Windows: Plan and schedule maintenance activities without triggering unnecessary alerts.
The free plan offers essential monitoring features, such as HTTP(S) monitoring, ping monitoring, port monitoring, and response time tracking, with 50 monitors and five-minute check intervals. Additionally, it provides two months of log retention and a status page.
For those seeking more advanced capabilities, the Pro plan, priced at $15 per month, unlocks features like voice calls and SMS alerts, 24-month log retention, one-minute checks, cron job monitoring, keyword monitoring, SSL certificate expiry tracking, advanced notification settings, and unlimited status pages. An Enterprise plan is also available for custom check intervals and managing multiple monitors.
UptimeRobot boasts reliability and scalability, with monitoring locations in the USA, UK, Australia, Brazil, Germany, Canada, and Japan. Whether you're a small business or a growing enterprise, UptimeRobot serves as a dependable companion for monitoring your online presence.
Register for a free UptimeRobot account and utilize it for as long as you require, ensuring your websites remain responsive and accessible to users around the clock.
9. Calibreapp
Calibreapp is a web performance monitoring tool that helps businesses ensure a seamless user experience for visitors from all over the world, regardless of their internet connection speed. It automates testing and provides valuable insights into the impact of third-party code on system performance.
Calibreapp is a powerful tool, but it is also easy to use. The platform is designed for teams of all sizes, from small businesses to large enterprises. Calibreapp offers a wide range of features, including:
Automated testing: Calibreapp can automatically test websites and web applications on a regular basis. This helps businesses to identify and fix performance issues before they impact users.
Core Web Vitals analysis: Calibreapp provides insights into Core Web Vitals, which are a set of metrics that Google uses to measure the speed and quality of a web page. Businesses can use this information to improve their website's SEO ranking and user experience.
Comprehensive third-party tracking: Calibreapp tracks third-party scripts and libraries that are used on a website. This can help businesses to identify and remove third-party code that is slowing down their website.
Pages Leaderboard: Calibreapp provides a Pages Leaderboard that allows businesses to compare the performance of their web pages to other websites in their industry.
Command line interface: Calibreapp offers a command line interface for advanced users. This allows users to automate tasks and integrate Calibreapp with other tools.
Calibreapp is a valuable tool for businesses of all sizes that are looking to improve the performance of their websites and web applications.
Here are some examples of how Calibreapp can be used:
A small business can use Calibreapp to test their website on a daily basis to ensure that it is loading quickly for users.
A large enterprise can use Calibreapp to track the performance of its website across different devices, browsers, and geographical locations.
A web development team can use Calibreapp to identify and fix performance issues before they are released to production.
Calibreapp offers a free trial, so businesses can try it out before they commit to a paid subscription.
10. Pulsetic
Pulsetic is able to meet each and every one of your one-of-a-kind requirements for site monitoring, regardless of whether or not your company is just starting off. Pulsetic does not need you to have a computer expert on your team in order to monitor your website since the platform is so easy to use and so straightforward. The free plan offered by Pulsetic includes all of the functionality required to monitor a website. Even the premium plans are affordable, beginning at only $9 a month, allowing you to quickly advance in the game whenever you feel ready to do so.
Key features
Tracking of keywords and phrases
information specific to the location in great detail
Dashboards and alarms that may be shared.
Add-ons available in advance upon request
11. Smartbear
Another tool that provides companies with the ability to monitor practically every element of their website is Smartbear. This platform, known as Smartbear, offers a complete product package.
Over 350 testing nodes are located in different parts of the globe thanks to this platform. In addition to monitoring websites, Smartbear can analyze the health of your mobile apps, verify the stability of APIs, and examine databases.
It is important to note that Smartbear does not provide a solution that really monitors the activity of its users. Therefore, if you are interested in using such function, you will have to search for a different kind of platform.
The price plan may be provided to interested parties only upon request.
key features of Smartbear:
Eliminate any blind spots in the testing process.
Less time spent on tests of regression
Developers' access to a distributed tracing system
Integrations with services provided by other parties that are completely seamless.
12. Sematext
Sematext can monitor SSL certificates, network timings, the efficiency of third-party APIs, and more, all while keeping an eye out for performance fluctuations.
Email, Slack, VictorOps, Twilio, custom notification hooks, and other channels are used to notify you instantly if anything goes wrong. Status Pages can be made either public or private, and they can provide updates on problems and maintenance, as well as details on the availability and performance of any services being tracked. These Status Pages can be hosted on your own domain and branded in any way you prefer.
Free trial available
Plans start at $29/month
40 HTTP and 5 browser monitors included in the regular plan
30 days of data retention for the regular plan
Pay-as-you-go plan available with individual monitors for as low as $2/month
In summary, Sematext Synthetics offers a variety of pricing options to fit the needs of businesses of all sizes. The free trial is a great way to test out the platform before committing to a paid subscription. The regular plan is a good option for businesses that need to monitor a moderate number of HTTP and browser monitors. The Pay-as-you-go plan is a good option for businesses that need to monitor a small number of monitors or that have variable monitoring needs.
13. Pingdom
Pingdom is an uptime monitoring service that has gained widespread recognition for its ability to deliver real-time warnings and thorough statistics on the performance of websites.
Pingdom is an excellent option for organizations of any size because to its intuitive user interface and huge network of monitoring servers located all over the globe. Pingdom is most recognized for the comprehensive uptime monitoring services it provides, but the platform also provides insights that may be acted upon about transaction performance and user experience.
Pingdom has been the industry standard when it comes to uptime monitoring services throughout the course of its history. It is not a coincidence that well-known companies such as Spotify, Pinterest, Facebook, Twitter, and MailChimp have placed their faith in Pingdom.
When a service or resource becomes unavailable, the tool will notify you as soon as possible. However, there are irregularities with the platform at times, such as when it sends false positive warnings to the customers on occasion.
Let's talk about the cost, shall we? You may sign up for the basic plan, which costs $10 per month and provides you with up to 10 basic uptime monitors and 1 advanced monitor, in addition to doing tests from their more than 100 different locations. Plans at higher tiers come with a greater number of integrations, analytics, checks, and sites.
They also provide a test trial of thirty days duration, during which time you may explore all that the site has to offer.
Pingdom's main features are as follows:
Instantaneous notification system
You are able to evaluate the performance while the application is still being developed.
Find and fix problems with the production.
KPIs that may be tailored to your needs.
14. HetrixTools
HetrixTools is a website monitoring tool that helps businesses ensure the performance and availability of their websites and web applications. It offers a wide range of features, including uptime monitoring, blacklist monitoring, real-time alerts, and detailed reports.
HetrixTools is a valuable tool for businesses of all sizes that are looking to improve the performance and reliability of their web applications. It is easy to use and offers a wide range of features at a competitive price.
Here are some of the benefits of using HetrixTools:
Identify performance issues early on
Prevent website outages
Improve website visibility
Respond to issues quickly
Make informed decisions about website infrastructure
If you are looking for a comprehensive website monitoring tool, HetrixTools is a great option to consider.