Adobe Creative Cloud is a subscription-based software suite offered by Adobe Inc. It encompasses a collection of professional-grade applications and services designed for various creative tasks such as graphic design, video editing, photography, web development, and more. Rather than purchasing individual software licenses, users can subscribe to Adobe Creative Cloud to access a wide range of applications and tools.
Some of the popular applications included in Adobe Creative Cloud are:
Adobe Photoshop: A powerful image editing software used for photo manipulation, graphic design, and digital art.
Adobe Illustrator: A vector graphics editor used for creating illustrations, logos, icons, and other scalable graphics.
Adobe Premiere Pro: A video editing software widely used in the film and video production industry for editing and producing high-quality videos.
Adobe After Effects: A motion graphics and visual effects software used to create animations, visual effects, and compositing for videos.
Adobe InDesign: A desktop publishing application used for creating layouts for print and digital publications, such as magazines, brochures, and eBooks.
Adobe Lightroom: A photo editing and organization tool that's particularly popular among photographers for enhancing and managing their photos.
Adobe Dreamweaver: A web development software used for creating, designing, and managing websites and web applications.
Adobe XD: A user experience and user interface design tool used for designing interactive prototypes and user interfaces for websites and mobile apps.
Adobe Acrobat: A tool for creating, editing, and managing PDF documents.
Adobe Spark: A suite of tools for creating graphics, web pages, and videos for social media, presentations, and more.
Adobe Creative Cloud also offers cloud storage and collaborative features, allowing users to store their work online and share it with others. The subscription model ensures that users have access to the latest versions of the software and can receive updates and new features as they are released by Adobe.
Overall, Adobe Creative Cloud provides a comprehensive toolkit for professionals and enthusiasts in various creative fields to bring their ideas to life, whether it's through digital art, multimedia projects, web development, or other creative endeavors.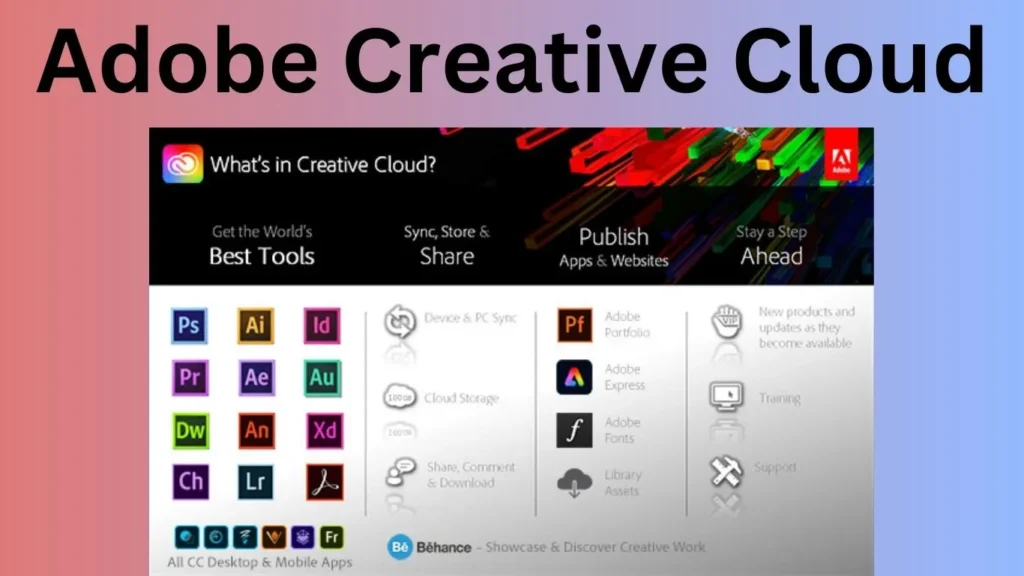 Adobe creative cloud login
To log in to Adobe Creative Cloud, follow these steps:
Open a Web Browser: Launch your preferred web browser (such as Google Chrome, Mozilla Firefox, Safari, or Microsoft Edge).
Go to Adobe Creative Cloud Website: In the address bar of the browser, type in "www.adobe.com" and press "Enter" to access Adobe's official website.
Click on "Sign In": On the Adobe website's homepage, look for the "Sign In" option. It's usually located in the upper right corner of the page. Click on it.
Enter Your Adobe ID: You will be directed to the Adobe Sign In page. Here, you'll need to enter the email address associated with your Adobe ID. This is the email you used to set up your Adobe Creative Cloud subscription.
Enter Your Password: Below the email field, you'll see a password field. Enter the password that you set for your Adobe ID.
Click "Sign In": After entering your email and password, click the "Sign In" button. If your credentials are correct, you will be logged into your Adobe Creative Cloud account.
Access Your Applications: Once logged in, you can access your Adobe Creative Cloud applications and services. You might be directed to your Creative Cloud dashboard or a page showing your subscribed apps and storage.
Remember to keep your Adobe ID and password secure and do not share them with anyone to protect your account and personal information.
Uninstall adobe creative cloud
To uninstall Adobe Creative Cloud and its applications from your computer, follow these general steps. Keep in mind that the exact steps might vary slightly depending on your operating system (Windows or macOS).
Here's a general guideline for both operating systems:
Uninstall Adobe Creative Cloud on Windows:
Open Control Panel: Go to the Windows Start menu and search for "Control Panel." Open the Control Panel from the search results.
Uninstall a Program: In the Control Panel, look for an option called "Uninstall a Program" or "Programs and Features." Click on this option.
Find Adobe Creative Cloud: In the list of installed programs, locate "Adobe Creative Cloud" and select it.
Uninstall: Click on the "Uninstall" or "Change" button at the top of the program list. Follow the prompts to complete the uninstallation process.
Uninstall Adobe Applications: After uninstalling Creative Cloud, you can uninstall individual Adobe applications by locating them in the list of installed programs and following similar steps.
Uninstall Adobe Creative Cloud on macOS:
Open Finder: Click on the Finder icon in your dock or use the Command + Space shortcut to open Spotlight and search for "Finder."
Go to Applications: In Finder, navigate to the "Applications" folder. You can usually find this in the sidebar.
Find Adobe Creative Cloud: Locate "Adobe Creative Cloud" in the Applications folder.
Uninstall: Drag the "Adobe Creative Cloud" application icon to the Trash icon in your dock. Alternatively, you can right-click on the application and select "Move to Trash."
Uninstall Adobe Applications: After uninstalling Creative Cloud, you can uninstall individual Adobe applications by following the same steps for each application.
Remember that uninstalling Adobe Creative Cloud will also uninstall any Adobe applications that were installed through it. If you have important files saved within Adobe applications, make sure to back them up before uninstalling.
Additionally, if you're experiencing issues during uninstallation, you can refer to Adobe's official support resources or community forums for further assistance.
Please ensure you follow these steps carefully and double-check any prompts to avoid accidentally removing something you want to keep.